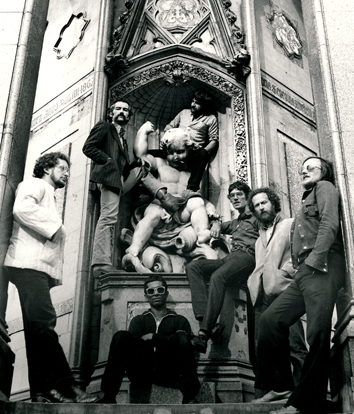 Our first publicity photo - around the water fountain in Victoria Park! L to R: Jon Corbett, Me, Dave Rackal(sitting), Joe Szarowitz (behind the Cherub!), Martin Robinson, Stuart Boardman, Bud Hooper


Who were they?
Musicians who passed through the band included:
saxes: Stuart Boardman,
tpts: Jon Corbett, Claude Deppa
tbns: Joe Szarowitz, George Howden
gtrs: Dave Rackal, Musi Musawa, Musa, Roy Fleming, Cosma Roberts
bss: Martin Robinson, Ruth Bitelli
dms: Bud Hooper, Louis Boreno, Renee, Dave Kennard, Ralph Richardson, Richard Beard, Roy Dodds
perc: Andy Scott, Ben Overhead, Seddik Zabiri, Martin McManus,
voc: Cath Murphy
and anyone else I might've forgotten! Apologies.
Ivory Coasters
and the African connection
One of those happy accidents of the right people being in the right place at the right time. Trombonist Joe Szarowitz remarked he'd been offered a gig if we could "get a band together..". So I recruited Stuart & Jon from the LMC, Martin Robinson on bass, and we scratched our heads for material. Settling on some soukous records for inspiration I'd brought home from Kenya and some bought from Stern's Radio on Tottenham Court Road, we advertised in Melody Maker for a drummer and were blessed with New Zealander Bud Hooper, who played that pan logo rhythm like he was born doing it! Guitarist Dave Rackal I'd known from Essex university, and Joe invited percussionist Andy Scott from the Goldsmith's jazz workshop to complete the eight-piece lineup.

The music was initially a mix of soukous, kwela, some Afrobeat and a bit of ska, and we played our first gig at Victoria Park in May 1980. From diverse musical backgrounds, the free-improvising horn line blew arrangements of African tunes and wild solos over a driving rhythm section of two guitars, bass, congas & drums. Many of our audience didn't know what hit them, and we were barely ahead of them in that!

We organised our own gigs in rooms above and behind pubs, played local festivals, and recorded a 12" vinyl single (as you did in those days!). Very few had heard of soukous, kwela, or hilife at that time, but the single soon sold out and we had to press more! We never called ourselves an African band (we weren't!) but we were clear where the inspiration and much of the early material originated, and were instrumental in bringing the music to the public's attention..

We soon found ourselves in demand on the college circuit, in clubs around Britain, and were big in Cardiff! Personel left, others joined. Original drummer Bud Hooper had to return to NZ and was much missed, replaced by Renee, then Ralph, then Richard, Roy and so on! Guitarist Musi Musawa replaced Dave Rackal, and wrote one of the songs on our second 12" single, 'Mungaka Makossa' (critically well received and currently available through Bristol Archive Records). By this time we were writing much of our own material, and in 1982 played at the first WOMAD festival, both in our own right, and as Prince Nico Mbarga's backing band. Trombonist George Howden had replaced Joe Szarowitz, Claude Deppa replaced Jon Corbett on trumpet, Musa replaced Musi, and so it went on.

We went into the studio once more to record eight tracks of what should've become an album, but by then African music was becoming absorbed into the ghetto of 'World Music', we ran out of money, didn't have a record deal, we weren't really African anyway (so what?), and members had other committments, making it harder to guarantee a solid line-up. We eventually organised a farewell gig or two and called it a day.


....the Coasters turned out some of the most stimulating and innovative 'African' music of their era. Particularly memorable were the mutant-African numbers 'Mungaka Makossa', 'The Bongo that Ate Pik Botha' and 'Scatter' (the latter loosely based on Fela Kuti's 'Everything Scatter', inspiring Claude Deppa to flights of indescribable, aberrant beauty). Other outstanding band originals included 'High Times' and 'Soma'.

- 'African All Stars' by Chris Stapleton and Chris May, ©1987 ISBN 0-7043-2504-7


Postscript: A couple of years ago I had the 24-track masters of the unfinished album digitized, along with the 16-track of the first single. Since then I have been mixing the album and re-mixing the single into what should be a definitive record of the band, or at least a good impression of what they might have sounded like on a good night. This is now finished!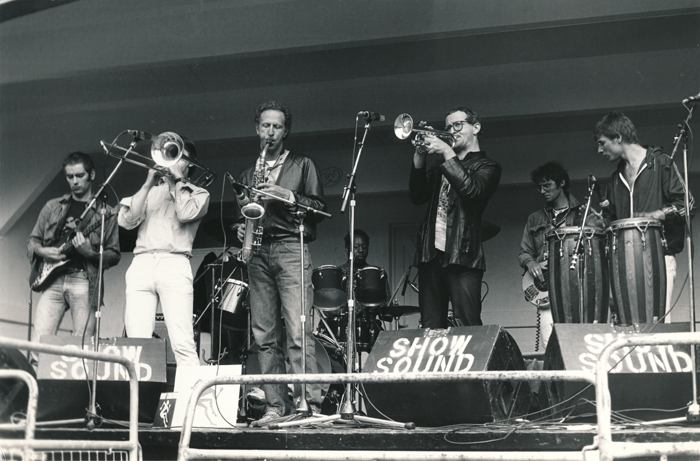 Classic Coasters! Me, George Howden, Stuart Boardman, Ralph Richardson, Jon Corbett, Martin Robinson, Martin McManus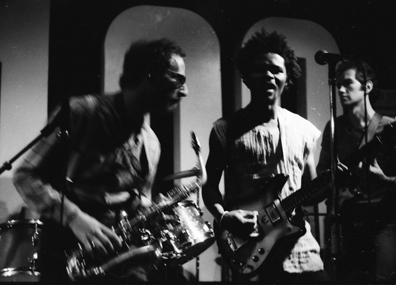 Live action at the 100 club!
Stuart Boardman, Musi Musawa, Me


On stage at first WOMAD festival with Louise and Ralph Richardson on drums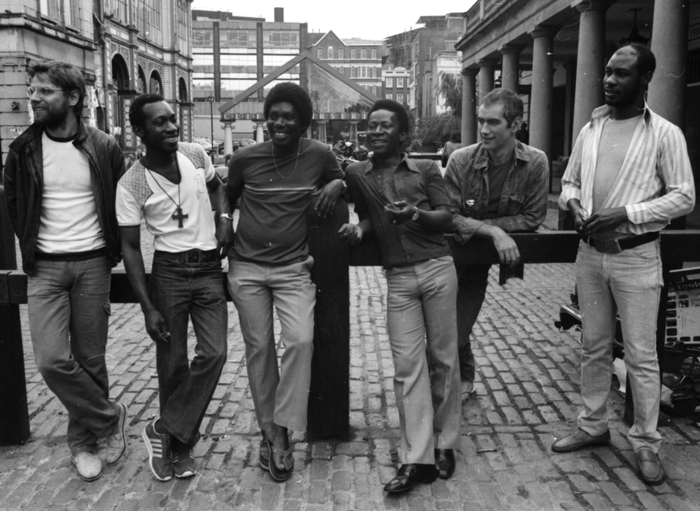 Supercombo outside the Africa Centre:
LtoR: Martin McManus, Emile Ogoo, Ali Mami, Sidiki, Myself, Dwight Ogoo.

Supercombo
I met Emile while I was working part-time at the Hackney Africa Centre. We sat down with a couple of guitars and he started playing an early Beatles' song! "Hey, I grew up on that stuff" I said; "Me too" he goes! So we moved on to a few combo tunes and next thing I knew I was in the band.

Stranded in the UK in the seventies, when the van with all their equipment had been stolen whilst on tour, they'd become an important part of the eighties' African scene in London, though never seemed to catch the attention they deserved. We played some great gigs, and I learned more from Emile than in all the years playing with the Coasters & listening to Orchestres Lipua-lipua, Kiam and Kamale.

We did record and broadcast an "In Concert" session for Capital Radio while I was with them, but in spite of their talent, commercial success still eluded them. Ill fortune seemed to follow them in later years, with Sidiki tragically dying at only 49, Ali Mami some years later, and last year the world sadly lost Emile too. Dwight now lives in Sierra Leone, and I believe is still playing, with yet another incarnation of the band. All of them fondly remembered.


Super Combo, Sierra Leone's hottest musical exports, are currently working wonders on the London circuit. Afroheat caught up with the rejigged band at the Bass Clef where they delivered a steaming set and proved that when it comes to soukous, few people do it better, or heavier, than a good Sierra Leonean band. - Blues & Soul review, 1985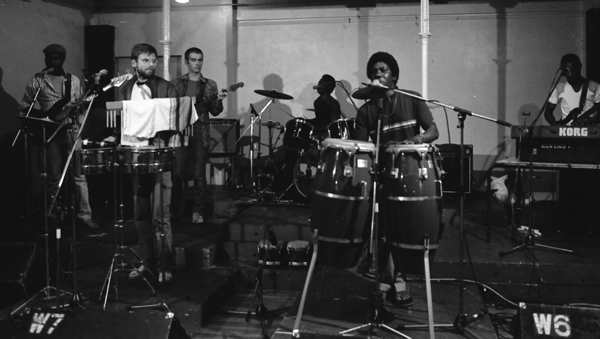 Supercombo inside the Africa Centre!