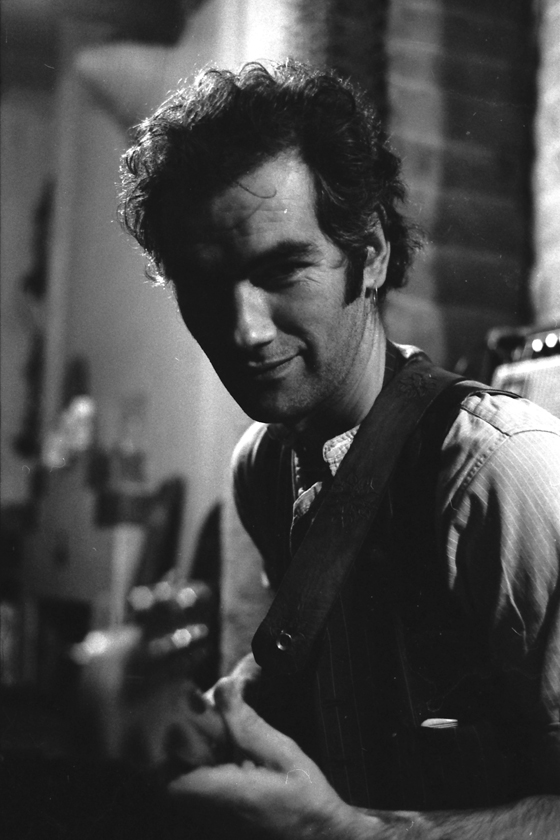 1980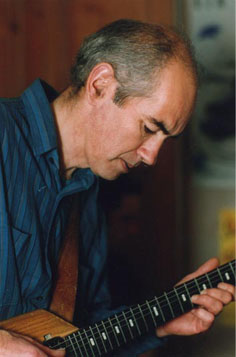 2000
A little history...
First instrument piano from the age of five, then guitar at eleven. By fifteen was playing in a rock 'n' roll band with school friends. At university dabbled with folk, blues (& beyond). Loved jazz but in the sixties discovered Ornette, Dolphy, Shepp, Beefheart, Zappa, Miles, Dudu, Cage, Stockhausen, Derek Bailey, Tony Oxley, Frank Perry etc, which all led to experiments with an alto saxophone (short-lived), prepared guitar (tyre levers, spatula, hacksaw blades, etc), electronics, tape recorders, field recordings, and amplified, discarded office furniture. Many strange events and recordings ensued.
Moved to London '73, played briefly with a band or two, and continued experimenting by abusing fuzz boxes, wah-wah pedals and electric fires. Somewhat disillusioned with the music scene, in 1976 I headed to Africa, travelling through Morocco, Algeria, Niger, Nigeria, and eventually to Kenya, wondering if I'd ever bother with the guitar again. Then on a juke-box I heard some congolese rumba (aka soukous), and fell in love!
Returned from Africa in '77, auditioned for a ramshackle hilife outfit in Greenford (didn't go back), before heading to Gloucester Avenue & the London Musicians' Collective, playing with Stuart Boardman's 'Package' and Jon Corbett's 'Affinity Orchestra' (Radio 3 'Jazz in Britain'), and releasing three tracks on the LMC's 'MayDay' album. Studied electronic music and did a jazz workshop at Goldsmith's College, where I met trombonist Joe Szarowitz, who initiated a chain of events coalescing into the Ivory Coasters, a freely-improvising African-inspired dance band, interpreting some of the music I'd fallen in love with in Kenya. Our fifteen minutes of fame lasted around four years, two critically acclaimed 12" singles and numerous permutations of musicians, before we played our farewell gig in 1984. Joined legendary Sierra Leonian hilife/rumba band Supercombo for a while, and played briefly with Taxi Pata-Pata and members of Somo-Somo.
1987; I got hold of a four-second delay/sampler/looper. The longest delay available at the time, I could get two bars of soukous guitar riff on to it! Magic! I spent some time writing tunes (!) before drifting back into free improvisation, playing at Jon Corbett & Steve Done's 'London Jazzhuis', 'Club Improv', 'Black Cat Club', 'Polar Bear Club' and other transient improvised music clubs.
In 1991, a dearth of such venues led to my setting up the Chinapig Club, which for three years promoted weekly improvised and original music in the function room above a pub in Hackney. In spite of the workload of doing it every week, it was a very rewarding experience, except of course financially! Inevitably we eventually fell foul of the licensing laws and infamous 'duos only' music policy of the time, the pub closed & was sold for conversion into a private residence.
During this time I was evolving a solo act as the Invisible String Quartet which involved guitar, prepared guitar and both the four-second and an eight-second sampler/delay/looping pedal. Lots of China Pig gigs, performances at the Klinker, Mopomoso, Clubroom, other London clubs, and London Musicians' Collective concerts led to the release of two CDs, a couple of Arts Council tours and concerts in Belgium, Holland and Germany.
On the first birthday of the Chinapig Club I invited a bunch of guys to play a celebration concert. This anarchic initiative developed over the years into an occasional big band project, of various line-ups, playing original compositions by myself and others, and improvising chaotically around them. Never really fulfilling its potential, the Porkestra has been sadly dormant for some years now.
Late 90s I continued to developing the ISQ, though dropping the name, and still played solo, but started to collaborate with other musicians, playing in duos with saxophonist Jeffrey Morgan, concerts in Brussels with Andre Goudbeck, trumpeter Bart Marris and bass player Peter Jacguemyn, and Marcio Mattos, Ntshuks Bonga, Dave Fowler, & Jim le Baigue in London.
Venues for this music come & (mostly) go, but those surviving include Alan Wilkinson's FlimFlam , Hugh Metcalf's legendary 'Klinker', John Russell'sMopomoso and Sue Lynch & Adam Bohman's Horse, (those mammalian references keep resurfacing...!).
Other Stuff I've done includes a sound installation, 'Windmill Percussion', which saw the light of day at the LMC's 'Week of Small Miracles' on Walthamstow Marsh in September 2000, a radio show, 'Almost Live', during the first year of Resonance FM, and currently several soundtracks for videos, mostly by Doffy Weir.
My field recordings have featured from time to time, both in performance (my library of the tones & rhythms of carpentry tools on several occasions, including a concert at the ICA) and as source material for soundtracks, for example Lea Valley samples in a composition for the video 'Hackney Armada', by Larraine Worpole, shown at the Hackney Film Festival, 2012. I recently bought a pair of hydrophones to extend this library to include underwater sounds!
Influences/Inspirations

Hank Marvin
Chet Atkins
Short Wave Radio
Dave Brubeck
Wes Montgomery
Charlie Byrd
Davey Graham
John Renbourn
Pink Floyd
Ornette Coleman
Igor Stravinsky
Claude Debussy
Jimi Hendrix
Karlheiz Stockhausen
Pierre Schaeffer
Frank Zappa
Captain Beefheart
Edgard Varese
John Cage
Eric Dolphy
Archie Shepp
Miles Davis
Maurice Ravel
John McLaughlin
Anton Webern
Arnold Schoenberg
Gyorgy Ligeti
Derek Bailey
Tony Oxley
Steel shelving
Carla Bley
Art Ensemble of Chicago
Charlie Haden
Michael Mantler
Brotherhood of Breath
Elton Dean
Keith Tippett
Frank Perry
Orchestre Lipua-Lipua
Orchetre Kiam
Orchestre Kamale
Orchestre Veve
Les Quatre Etoiles
Fela Anakulati Kuti
Spokes Mashiyani
Papa Wemba
Adam Bohman
Morphogenesis
Carpentry tools
Furt